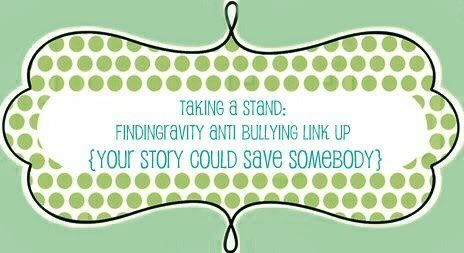 This is a subject near and dear to my heart. There's been a lot of attention and lip service paid to bullying, and there has been ever since I made may way through the education system. However, it can be difficult to let those lessons sink in as a kid, when you're either a) being bullied and have no idea what to say to make it STOP instead of making it worse or b), too afraid to stand up to the bully-ers while feeling awful and useless in defending the bullied. I've been in both of these positions, and for all the commercials and news stories that have been done on bullying, it's ultimately up to adults and kids to work together to come down on bullies before they get too comfortable in that role.
So I'm participating in this link-up (thanks Carley!) and will share my bullying story and how it's still affecting  me today.
I was always a tomboy growing up (and to an extent, still am today!). I had a lot more guyfriends than girlfriends, and preferred playing sports to chasing boys. This all served me well through elementary school, right up until junior high. Then, thanks to hormones, or some kind of biological bitch-switch in the back of everyone's brain, that all changed. I still refer to junior high as the worst three years in my educational life, because they were. It was hell.
Suddenly, there was every reason in the world to make fun of me. I've mentioned my dental problems on this blog before, and that was always issue one with my peers. I remember boys in seventh grade (all the way through to ninth! The same boys!) teasing me about their off colour, calling me "gingivitis" (which, btw, is a gum disease and not a tooth thing. I told them that but it didn't deter them at all). They would ask me, over and over again, why my teeth were so yellow, didn't I brush them? Why don't you take better care of your teeth? Etc. etc. It made me feel like never smiling again, just so I wouldn't have to hear it.
I also was a late bloomer. As the girls around me were becoming "young women," I maintained my short stature, straight up and down figure. I had no curves, no real shape. This was intimidating as well, and meant that I wasn't seen as a a girl — but now that we're all in junior high, I wasn't allowed to be "one of the boys" either. So what the hell was I?
School dances were awful, because I never had a "date." My friends would be asked by the cutest boys in the school, and I'd tag along. Boys would (honestly) run away from me if I asked them to dance. Then there was the boy who told me he'd go with me, then never showed up to take me. It made me feel tiny, insignificant, worthless. I stood and waited in the hall while his friends swore up and down that he was coming (then laughed as they went into the dance). Standing there alone, in the foyer of my school, outside the gym where all my friends were having fun was gut wrenching. I felt like an idiot.
The girls would try to "show me how to dance" to fast songs (by gyrating along) and would laugh when I couldn't get it right. They admitted to "making me angry" because I looked funny when I was angry. Because I wasn't a gymnast and took diving lessons instead, I was odd and my "sport" was never seen as legitimate (which is a big deal in junior high) and consequently I quit diving (dumbass!). They always made me feel like, because I wasn't the girliest, or the most "grown up" that my opinions were somehow less legitimate. Poor, book-smart Kylie, doesn't know how the "real world" works.
I was teased, picked on, left out, or invited along for all the wrong reasons. Lucky for me though, my smarts got me through the bulk of it, and I was pretty "popular" during the final exam times. My course through grades 7, 8, and 9 could have been so much worse. I wasn't the least popular, but I could ride on the coattails of those who were.
But I was friends with some of the girls who weren't so lucky, too. The ones who were gossiped about, teased, verbally abused. And I'm still disgusted with myself that I didn't tell my "friends" to shut the hell up. To any of those girls who were in my school, I offer you a sincere I'm Sorry. I know it's too late, and I could have, should have, been a bigger person and stood up for what I knew was right. But I'll be honest, I was scared of making it worse for myself too. My coattailing and flip-flopping had gotten me into trouble before (where the most popular girls would turn on each other and ask me to pick sides. I preferred to play double-agent and got called on it).
All of these memories stick with me today, and have shaped and defined who I am. Knowing parts of what it's like to be the bullied, I'm disgusted when I hear stories on the news or from friends about what kids are doing to each other these days.
Stop it. Just stop it! Exerting all the influence and power your 14-year-old self can muster will not get you any further ahead in life. I still find it hard to hold my tongue when I see the catty, bitchy attitudes of some adolescent girls. But I don't think verbally assailing strangers will help the cause. However, I do fully intend to stop bullying wherever I happen to see it. That is a promise.
And to anyone in a position to make this stop: take it. I promise that for as scary as it is, you'll be making someone's life easier (and hopefully driving home to the bully that this is NOT cool, NOT okay etc.) You will not regret doing this down the road.
Thanks, Carley, for feeling as strongly as I do about this, then taking it one step further and starting this link-up. I encourage every one of my readers to follow suit.